IBADAN CAN'T COMPETE WITH SAKI IN ENDOWMENT-SAKI PARAPO PRESIDENT, DR LAWANI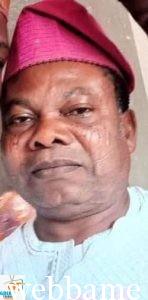 IBADAN CAN'T COMPETE WITH SAKI IN ENDOWMENT-SAKI PARAPO PRESIDENT, DR LAWANI
(THIS INTERVIEW WAS PUBLISHED ON OUR SISTER MAGAZINE "SNOOPXTRA' SPECIAL EDITION 2018 SAKI DAY.
IT IS HEREBY REPRODUCED UNEDITED AS A MARK OF HONOUR  TO A GREAT LEADER WHO LEFT THIS SINFUL WORLD UNANNOUNCED. MAY ALLAH GRANT HIS SOUL ALJANAT FIRDOUS AND GIVE US THE FORTITUDE TO BEAR THE IRREPARABLE LOSS.
ADIOS DR SULE LAWANI .
          The National President, Saki Parapo, Dr Sulaiman Lawani is an academic who finds joy in community service.  In this interview by RASHEED KOMOLAFE, he bares his mind on how Saki can occupy its rightful place in the comity of cities in Nigeria. Excerpts
What is the significance of Saki DAY 2018?
         It is Saki City Day, not Saki Day. Saki has gone beyond ordinary town. It is now a city.
In the history of Saki when it was known as a town, we had Saki DAY once. Since then, it becomes like a curse, that  Saki people  could not come together to organise anything that can be called Saki  Day. When I took up the leadership, I felt that one of the things that we needed to do to, at least, bring Saki indigenes at home and in Diaspora together  or search for the development of the town, is to organise a Saki City Day 2018. We have major development projects that we targeted at; one of such projects is the CBT centre that we started jointly with Oke-Ogun Polytechnic at Saki. We also want to have a befitting Saki City Hall. The one we have now was built by our fathers. We also want to build and complete our event centre at Isale-Taba where we hope to train youths on vocational skills acquisition. We are also targeting the command science college which was given to us by the military. Thanks to one of the sons of the soil, a military officer, who I may not like to mention his name because I don't know whether he would like it. He was the  one who facilitated the school but we have problem with the state government who rejected our request to use the facility at the former  Divisional Training College. We Approach the Nigeria Army who graciously approved land for us from Asabari Barracks Saki.
How do you intend to raise fund for these projects?
          Thanks God. Saki people have actually come in unison, we are united towards giving a helping hands to make sure these projects see the light of the day. Saki people are not waiting for the day proper before they start contributing. They have contributed a lot, and people are still contributing. I know before the launching proper takes place on Saki Day, a lot of funds would have been contributed.
             Oyo State Government has embarked on the rehabilitation of road that leads to Saki from Ibadan, starting from Oke-Ogun Polytechnic junction to a place called Ijale-Oda. Are you satisfied with the pace and quality of job being done presently?
            We cannot say we are pleased and either can we say we are not pleased because Yoruba used to say 'Eniti o di owo kuduru  fun eniyan ni nkan, ti o ba ri nkan nla a fun ni'. When it was in a dilapidated form, we cannot do anything, so we are using this opportunity to thank His Excellency, the Executive Governor of Oyo State, Senator Ishaq Ajimobi for graciously approving the reconstruction  of the road despite the tight financial problem government at all levels are facing in Nigeria.
        Remember, the executive governor actually promised us this road when he was campaigning. He did promise the late Okere of Saki, may his soul rest on peace, Oba Kilani Ilufemiloye that rehabilitation of the road would be effected during his second coming. In Nigeria, when projects are awarded by government, most of the time, it is not the fault of the government if the quality of the job is wobbly done. It is the duty of the people who are the direct beneficiary of such project to monitor and complain if they are not satisfied with the quality of the job being done. The quality of the job being done by the contractor initially is low, but when we complained, the contractor has revisited them.
           In the late 70s, the federal government embarked on international route that was intended to boost intergovernmental and commercial activities in West Africa. The road was to take off from Badagry, through Maya/Iseyin-Saki/Kisi in Oyo State to Sokoto. Most of the sections of the road have been completed with the exception of Maya/Iseyin / Saki/Kisi/ Kiama link. What are you doing as the national president on need to complete the link that passes through Saki to Kiama so
 that people can also benefit from the goodies such project can bring to the community?
         Even before we started making efforts towards calling the attention of the government to it, the present government under President Mohammed Buhari has shown interest
in the project. The minister of Works, Power and Housing Mr Babatunde Raji Fashola also re-echoed the thought of the government on that project, he did
       promise us that the remaining axis and all other abandoned projects across the country shall be completed by this government.
Though they have cited it as one of the projects they are going to complete, it is our duty to monitor it, and thank God we have a Minister Barrister Bayo Shittu, the Minister for Communication, who is also from Saki, equally involved in mounting pressure on government to complete the project.
       Okerete Trans-border International Market is another laudable project embarked upon during the second coming of President Obasanjo, out of the six approved by the then government, Okerete was
penciled  as the pilot project.   What is the position of this project now? Which arm or level of government is not co-operating to make room for the effective take-off of the project? What can the Parapo do in the nearest future to ensure that the project enjoys smooth take off?
        Okerete Trans-border Market is an on-going project. It has not been abandoned. Though we have problems, we need to overcome before the project can see the light of the day.
         As a matter of fact, the present government has also renewed its interest in seeing that the project is completed. Don't also forget that a similar project was cited in each of the six geo-political zones of the country while Okerete was closing as a pilot project. The federal government in its wisdom decided to share the work to be done in the project among the three arms of the government. Some aspects of the project are expected to be carried out by the state government, while some aspects of the project are left for the 10 Local Governments in Oke-Ogun. The state government recently mobilized all the 10 Local Governments in Oke-Ogun to do their own portion by uprooting the trees along the road and they all went to site but along the line, they stopped.
Why did they stop?
We don't know, but we suspect a foul play, and we have started our own investigation. We know the fund was released but why some of Local governments abandoned their duty at site is what we don't know. But at Saki Parapo, we are not keeping quiet. We have taken up the issue with our three Local Government Chairmen (the substantive and the two LCDA Chairmen). We learnt that the Federal Government has released funds for compensation for those who might be affected by the project. We learnt that certain cabals are sitting on the money. We will not relent on
           our efforts to ensure that we fished out those who are responsible and make them face the music. In fact, another dimension to the whole drama came from our Senator (Buhari) when he visited Saki and we had meeting with him over Okerete Trans border Market. He told us point blank that the record of the Federal Government shows that the project had been completed, and that a report to that effect had been issued. And when we asked our Local Governments about the veracity of the Senator's submission they echoed the some thought. Now it is Saki that is suffering the consequences, and if care is not taken, we may not recover from this. It is our prayer that when government at whatever level put money down for a project they should be able to monitor such projects. We use this medium to appeal to the Federal Government to dig into archives and fish out those culprits who had siphoned the money meant for the project. Saki Parapo cannot do that, we don't even know them. But we have facts.  We know our Senators cannot tell us lies.
          If it is true that our senator Buhari said there were  documents at  his disposal showing that the market had been completed, and the reality on ground is pointing to the contrary, we will like to know which aspect of the project is our Senator is (Buhari) referring to?
        You know, it is divided into different types of project e.g roads, parks, dry port,  the main market e.t.c. I would not know the one the Senator was making reference to, but I know the federal government knows which one should come first and which one in their record shows that they have completed. But it is the duty of the government to make sure that each time money was released for certain project they should also monitor it and see that the budgeted money is properly utilized.  Even the one the state government directed the local governments to do  has been abandoned  half way despite the fact that money was voted for it
          There is a rumour in town that Crown Agent of UK made some money available to execute certain aspect of the project. I think it is 5 million or 3 million Pound Sterling about or seven years ago. It was
celebrated with fanfare at the Governor's office but some people alleged that the money grew wings. What can you say about this?
       I know the survey was carried out by the man we, in Lagos used to call 'super elder.' He is a renowned surveyor in Nigeria. He was Surveyor-General of the federation, Chief Titi Abiodun. He did the survey on behalf of Saki Parapo. And that has since been completed. I don't know which aspect of the project people are talking about, and this is what we have been saying. A lot of people are alleging that so, so money was released and siphoned. So it is our duty to find out what happened to the project because the project is citied is this area. Even at our local level here, we are facing the same challenges. Some of our people have started trespassing on the land acquired for the project, and we have told them the consequence of their action if they do not stop.
The road that links the market to the international border in Benin Republic is about 96km, and that road is expected to be constructed by the state government through public partnership with African Development Bank. Seven years on now, Governor Ajimobi has not done anything on that road, not even a single project vehicle has been provided by the state Government. What is your take on this?
        Part of the problems we having on that projects is lack of political will; our local problem is also there. Even look at the mess our local government chairmen have made of the project. Saki Parapo is planning to wade into the crisis; a meeting on Okerete will hold very soon. Saki Parapo is also planning to meet with a 35-man delegation from Benin Republic over Okerete issue probably before Saki Day 2018.
Saki, town has no Oba now, the Omobas are at war. What are you and Saki Parapo executive doing to give Saki a befitting Oba in the nearest future?
The issue of oba is a very sensitive one. The omobas are not at logger heads as you said. It is rather a kind of recognition. A section of the ruling house claims that the other section is not part of them and the alleged section went to court and got an injunction on a platter of gold. And you know what that meant. It means that one cannot do anything on that issue. But we are lucky that Saki Parapo was not included in the injunction. It is that window of opportunity we have that made us wade into the crisis.  For the first time, we were able to bring all of them together, for the first time, we were able to bring lawyers on both sides together. For the first time, at that meeting we were able to talk freely and we were able to suggest what could be the way forward. We mandated a number of committees from Saki Parapo to look into the problem, and by the grace of God, something good will come out.
What are your plans to make Saki great again, aside the ones you have highlighted?
Our objective is to reposition Saki. But the problem we have is lack of unity among Saki indigenes. Glory be to God, we have been overcoming that gradually. In the recent past, Saki was divided along religious line coupled with unnecessary sentiments. Thank God that is fading away gradually. The newly found unity of purpose was demonstrated during our last Annual General Meeting here in Saki. The Town Hall that used to be a quarter filled was overfilled. The AGM that normally starts on Monday and closes by Friday noon, surprisingly started on Saturday and ended at night the following Saturday. Saki has come back to life. At Saki Day, the greatness will come out, and henceforth Saki will not lag behind again.
What are your achievements?
       We are not politicians, and anything we do, we are not doing it because we want to be compensated. We are doing what we are doing for our fatherland and for prosperity.
I would have asked you to find out this from our people in the town. But definitely, we can say that when we came on board, Parapo name was in the mud. The Sakite did not even consider Parapo as a body that could solve any problem in Saki. Thank God we are able to regain the confidence of our people.
       As I told you earlier, Saki now has an Area Command of police. Also, it is through our efforts that we were able to bring INEC Zonal Office to Saki. When the late Okere died, Bagi also passed on, Saki was totally an orphan then. Parapo was able to manage the situation. Even when Saki finally have  Bagi, but some of the problems refused to go, it was Parapo that is managing the situation. Parapo is actually doing the work of Okere. Even the road (dualization) that we talked about earlier, which a lot of people thought was abandoned, we know the type of people we met to see that the contractor was mobilized to site. We will not forget the role played by one of the sons of the soil, our baba. I don't know whether he would like me to mention his name. He was instrumental to the breakthrough we had, concerning the road. We are instrumental to the resolution of many crises in the town.
Even the so-called Oba's family that are selling land anyhow, we were able to stop them from selling our birthright. If not for Saki Parapo,
the Oba's family in question  was hell bent in selling  the land to strangers.
 We were able to rejuvenate the age-long relationship with our people in the Diaspora, we have visited Benin Republic, Burkina Faso, Recently people came from Franco-phone countries, and we were able to resolve
their crisis in line with original culture of Saki Parapo. We still maintain that culture till date. Saki Parapo is working, and we are working so that by the time we are taking our bow from this position of leadership, Saki will have regained fully its rightful position in the comity of cities in Oke-Ogun, Oyo State, in particular and Nigeria in general.
Can you share with us your profile?,
I am Sule Lawani, a lecturer in the University of Lagos, in the department of European Language. I am from Sobaloju compound at Igbooro. We have about three sobalojus in Saki, Our own Sobaloju is the one at Igbooro.
          I am about to serve out my two-year mandate next year as president of Saki Parapo. We are giving selfless service to the people of Saki without collecting kobo as remuneration. To God be the glory. Our philosophy is that Parapo should not be seen as a business venture. If you are interested in serving, come and use your wealth to serve without expecting anything in return. We believe that anything you do on earth, it is only God that can reward you abundantly.
       Saki is one of the greatest cities in Nigeria. In fact, Ibadan, the State capital does not have half of what Saki is endowed with if we can actually manage what we have very well.