3SC TO PLAY SLOVAKIA TEAM AT LEKAN SALAMI STADIUM GRAND OPENING–MAKINDE ….National, State Assembly members must join calls for State Police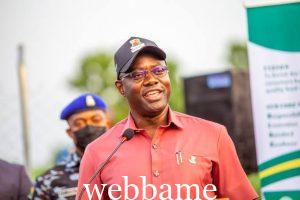 3SC TO PLAY SLOVAKIA TEAM AT LEKAN SALAMI STADIUM GRAND OPENING–MAKINDE
….National, State Assembly members must join calls for State Police
Oyo State Governor, 'Seyi Makinde, at the weekend, called on National and State Assembly members to join the call for state police irrespective of their party affiliations.
He said that the introduction of state police will help in tackling the menace of insecurity in the states and across the nation.
A statement by the Chief Press Secretary to the governor, Mr. Taiwo Adisa, quoted Makinde as saying that concerted efforts are needed to tackle the challenges of insecurity bedevelling the country.
Governor Makinde stated these while speaking at the 30th Anniversary of Ibadan Golf Club, held at the World Lilies Event Centre, Queens School Road, Apata, Ibadan, on Saturday.
The governor called on those politicising insecurity to have a rethink, saying insecurity does not know political parties or religions.
He said: "I don't want to politicise insecurity because when things happen, hardly will they ask whether you are PDP or APC or whether you are a Christian or a Muslim."
He added that the solution to the insecurity in the states is state police, enjoining the legislative arm of government both at the federal and state levels to push for it in their chambers.
"Players will come and go. Governors will come and go. We are pushing for state police because we believe it is going to be a game-changer for the people.
"Call your Senators, members of the House of Representatives and State Assemblies, irrespective of their party affiliation, ask them to do something.
"Call them to support this, and when it comes to Oyo State, I can give you the assurance that the State Assembly will pass it," the governor said.
The governor further said: "Personally, I have gone around to take responsibility for some of the issues we are faced with, security-wise. But I want to beg of you, on security, we have to take a collective responsibility. The government alone cannot do it, as all of us must come together and play our own parts.
"In your neighbourhood, if you see something, say something and the government will do something."
Governor Makinde, who congratulated members of the Ibadan Golf Club on its 30th Anniversary, pledged that he will continue to support the club and also do more in terms of giving necessary support for sports development in Oyo State.
He said that the remodelled and reconstructed Lekan Salami Sport Complex will be opened with the Shooting Stars Sports Club (3SC) playing a European Team from Slovakia.
He added that the match will kick off at about 8 p.m., under floodlights.
"For the first time in the history of Lekan Salami Stadium, Shooting Stars will be playing a team from Slovakia and we will be kicking off at about 8 p.m. So, we will play the game under floodlight.
"We will be watching subsequent games of the Shootings Starts under floodlights. When we are done from work, we will go home and relax and watch our darling team," he added.