DEFAMATION SUIT IN U.S : GROUP CALLS FOR REMOVAL OF TIMIPRE SYLVA AS MINISTER OF STATE FOR PETROLEUM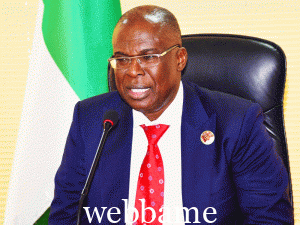 DEFAMATION SUIT IN U.S : GROUP CALLS FOR REMOVAL OF TIMIPRE SYLVA AS MINISTER OF STATE FOR PETROLEUM
Nigerians for Transformational Change (NTC) has called on President Muhammadu Buhari to sack Minister of State for Petroleum, Timipre Sylva, over alleged summons by the United States Federal Court to defend his defamation case in the Eastern District of Pennsylvania, scheduled for August 11, 2022.
The civil society group faulted the one-time governor of Bayelsa State's handling of the nation's fuel crisis and accused him of "using taxpayers money to fund the legal fees and planned appearance before the U.S court."
A United States Federal Court Judge for the Eastern District of Pennsylvania, Joseph Lesson, has ordered Sylva to appear in person on August 11 to defend his defamation case against one Jackson Ude over publications of alleged bribery, fraud and corruption in the awarding of Nigeria Liquefied Natural Gas (NLNG) Train 7 contract in a joint venture, led by Italy's Saipem. The contract, worth $4 billion, is for engineering, procurement and construction of the production unit at the gas company's Bonny Island plant in Rivers State.
Represented by one Lawan Yahaya, NTC, in a statement, wants the minister to be publicly grilled by the defendant's legal team to reveal government's contractual agreements, transactions and other issues bordering on national security interests.
It commended the Christian Association of Nigeria (CAN) for speaking on the continued fuel scarcity in the country, pain of having adulterated fuel in circulation and how it has further impoverished the citizens.
Yahaya said: "How can we be major oil producer, but have failed to fix our refineries and find lasting solution to the challenge of oil subsidy? Nigerians should not continue to suffer due to the negligence and incompetence of people holding public offices. Why should our leaders abuse the patience of our citizens?"
"Nigerians are still battling with insecurity, poverty and now fuel crisis, yet nobody has ever been held responsible for all our pains, sufferings and poor services that we are getting. Unless and until someone takes responsibility to deliver services to the citizens or to resign for failure to deliver services to the nation, this evil may not end soon."
However, Sylva's close associate, who pleaded anonymity, dismissed the group's call, describing the defamation suit as one that would follow legal direction and should not be used to blackmail his principal out of office"It was the minister that filed the defamation suit against Jackson Ude. Why should such suit now be used to call for his sack. We stand with the minister in this case," he added.