UI VOCATIONAL CENTRE WILL TRAIN YOUTHS, GENERATE EMPLOYMENT- SEN TESLIM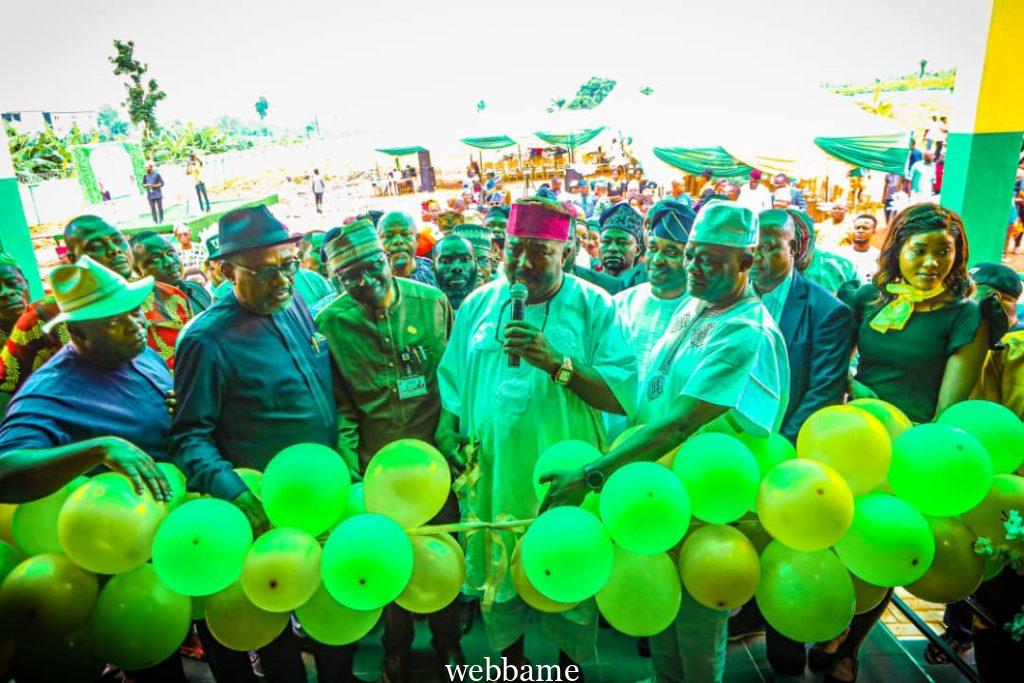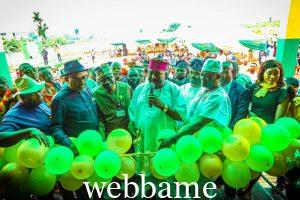 UI VOCATIONAL CENTRE WILL TRAIN YOUTHS, GENERATE EMPLOYMENT- SEN TESLIM
The 2023 governorship candidate of the All Progressives Congress (APC) in Oyo state, Senator Teslim Kolawole Folarin on Friday said the multi-billion naira vocational centre he facilitated for his Alma Mater, University of Ibadan would generate gainful employment for the State's teeming youths.
The Senator representing Oyo Central in the National Assembly was quick to add that though the facility was entrusted in care of UI for proper and sustainable operations, he appealed very strongly to the institution's management that the facility should be thrown open for the usage of all categories of Oyo state citizens for them to be adequately equipped for gainful employment.
The facility located along Shasa, Ajibode road in Ibadan was commissioned by the Oyo south senatorial district candidate of the party, Chief Sharafadeen Alli.
Folarin described the project as timely and dream's come true because of his passion to take youths out of labour market.
He said, "today is one of my happiest days. I am so happy because l am fulfilled having successfully facilitated in practical terms the establishment of this multi-billion naira hi-tech skills acquisition centre which we are all here to commission in our dear pacesetter state.
"This facility is intentionally and deliberately designed and constructed as a one-stop platform to train multitudes of Oyo State citizens in different skills across oil and gas and other sectors of the Nigerian economy.
"One of the burdens of leadership is to ensure that as a leader, one focuses on projects and programs that are impactful and touches on the day-to-day lives of the people.
"Aside from insecurity which has become a major nightmare in Oyo State, I am very passionate about ensuring every citizen in Oyo State is gainfully employed and engaged in one occupation or the other. I am excited about the number of Oyo state citizens that will be equipped and eventually get employed as a result of this huge facility.
"I will also like to reiterate, that my humble effort in this regard aligns with strong passion and commitment to a Rescue Mission towards a prosperous Oyo State.
"My Rescue Mission has crystalized into action plans aimed at liberating Oyo State from the ongoing excruciating scourge of insecurity, high-level unemployment, and dwindling fortunes in education and health.
"With a sense of urgency, the rescue mission shall reposition the state towards desirable growth and rapid progress in the areas of ICT, Agriculture, Governance, Environment, Urban Renewal, People living with disabilities.
"This project we are commissioning here today is within the context of my Rescue Mission. This is just the aroma, a tip of the iceberg of what to expect under my administration when l secure the mandate to govern Oyo State under my Rescue Mission.
"I charge all citizens of Oyo State to join hands with me in the task of rescuing Oyo State and repositioning for greater Oyo State.
"I wish to thank specially the management and staff of NCDMB under the dynamic, hardworking and resourceful leadership of Engr. Simbi Wabote. The passion of the Executive Secretary of NCDMB Engr. Simbi Wabote for performance and development is unparalleled. His trademark is quality and service delivery.
"This has led to timely completion of this project. I congratulate the University of Ibadan my Alma Mater, the Vice Chancellor and principal officers of the University.
While commissioning the project, Alli described Folarin as an experienced politician who would change the political landscape of the State for the better when he becomes the Governor.
He admonished the University community to make good use of the facility for the people of the State to feel its greater impact in a way that thousands of jobless youths would become better citizens after training in the facility.