WE WON'T RELENT IN PRIORITISING EDUCATION IN OYO STATE – MAKINDE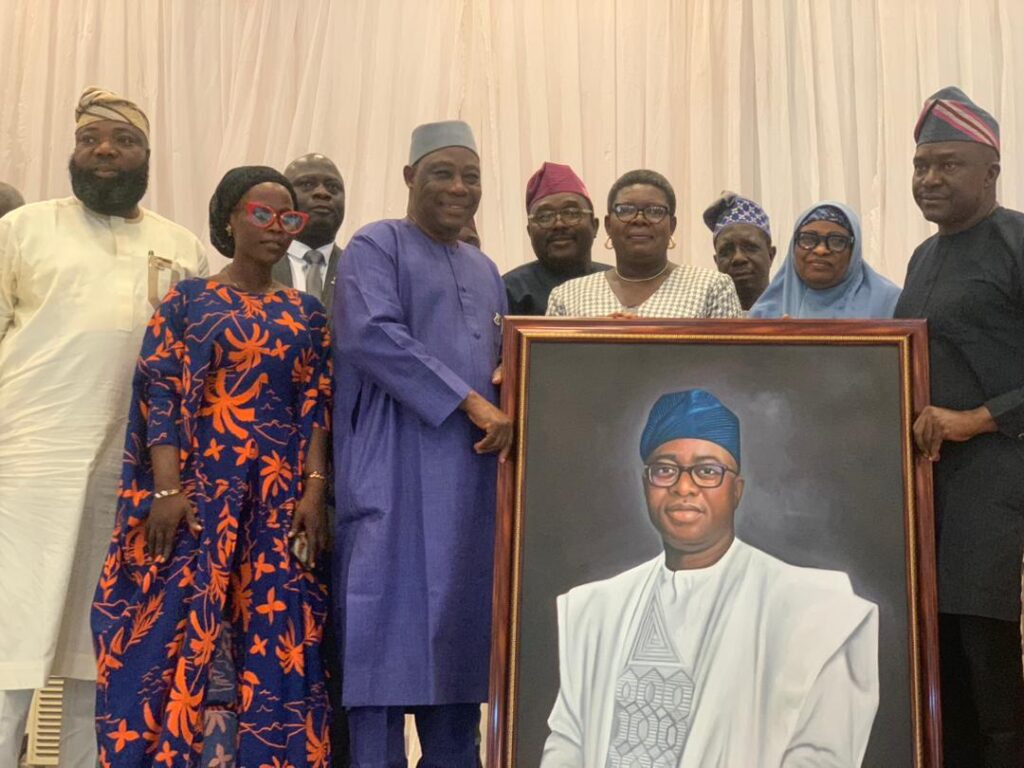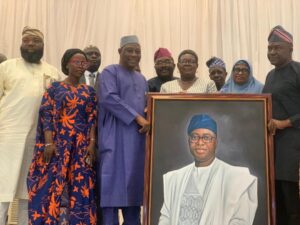 WE WON'T RELENT IN PRIORITISING EDUCATION IN OYO STATE – MAKINDE
…as Ministry awards outstanding, students,old students, philanthropists
The Oyo State Governor, Engr Seyi Makinde, on Tuesday, reiterated that education will continue to be prioritized in the state, saying it remains one of the pillars of his administration.
The governor stated this
at the maiden Education Day Celebration tagged 'A Day With His Excellency', held at Emeritus Professor Theophilus Ogunlesi Hall, UCH, Ibadan.
The governor, who spoke through his deputy, Barrister Abdul-Raheem Adebayo Lawal, explained that
educational awareness event 2023' is no doubt showing the whole world, particularly Nigeria, that the Oyo State is answering its appellate, 'Aji Sebi Oyo Lan Ri, Oyo ko Se bi Baba E ni kan'.
He maintained that education is at the forefront of the present administration activities and is one of the main tenets of the administration's Four (4) Point Agenda in Omitutun 1.0, while emphasising that the current administration has allocated about 20% of its budget to education and that it is ranked as inter premier.
According to him, "We know as a matter of fact that giving education to our children is key to our children so as not to be ravaged by poverty. The folks who were not educated are nowhere to be found today in Nigeria and as such, our administration both under Omitutun 1.0 and Omituntun 2.0 have taken education so seriously that every other policy of government ranks behind education."
While noting that the ministry of education is building on solid foundation that has been established since 1955, Makinde assured that his administration will not relent to really continue to build on the solid foundation as well as making a conducive environment within and around educational institutions in such a way that pupils and teachers have an enabling environment to perform the function they are engaged.
He said: "As a matter of policy, the Oyo state government has embarked on sanitization of the environment of our schools by making sure that shops are not allowed around the school fences. We have instructed the ministry of education to dismantle any structures or shops within the school fences and on behalf of Governor Seyi Makinde, we are giving support to education to ensure that school premises are clearly defined both outside and within the school.
"This administration under Omitutun 1.0 recruited about 5,000 teachers for students in Oyo state to have a qualitative education they desire for them to be successful in life. Such teachers that were engaged under Omitutun 1.0 are working assiduously and I can assure you that the ministry of education will continue to have the support of the administration to be able to deliver on the mandate it has been established.
"Accessibility and affordability with capacity building in the education sector is sine-qua-non to good and product of education. The Oyo state government under the able leadership of Governor Seyi Makinde is seriously working to ensure that pupils and students have basic access to education."
The governor listed the establishment of a new campus in Iseyin and the sole ownership of Ladoke Akintola University as accomplishments of the government. He added that over a thousand LAUTECH students have been moved to Iseyin to continue their education in the area of agricultural development.
While expressing gratitude to those who had contributed to the improvement of education in the state, he pointed out that government couldn't do it alone and urged them to keep up their kind support, saying that it was also for the students who would eventually become professors, judges, aeronautical engineers, imams, and pastors, among other professions.
He equally urged them not to reduce the generosity in support of education in the state.
Makinde noted that despite paucity of funds, Oyo state is sustaining three universities which are LAUTECH, Tech-U and Emmanuel Alayande university in Oyo state which are fully owned by the state government.
He emphasised that Emmanuel Alayande College of Education has also evolved into a university under the governor's direction, adding that LAUTECH was facing a crisis and was unowned prior to the emergence of Makinde's led administration.
He praised the parents of the students who won awards, noting that nothing makes parents happier than to attend an award ceremony with their students remarking that the exercise is an amplification of success.
"I have the directive of His Excellency that this administration will continue to give adequate support in a way that promotes the educational system in the state and to deliver on its mandate of establishment.
"Education has taken firm root in Nigeria and we will continue to give support to education. On this note, I congratulate the ministry of education and I urge them to come up with more beautiful initiatives that will benefit the students and in a way that a larger population will know that education is very important.
"I wish you all the best and particularly our students and I pray that the award will serve as an impetus for them to achieve in their various endeavors, he concluded.
Earlier in his remarks, the Oyo state Commissioner for Education, Professor Solihu Adelabu, said that the best legacy any government can bequeath to her citizens is sound and qualitative education.
According to him, the Oyo state government is investing in both the infrastructure and human capital development of Oyo indigenes.
He said: "I wish to inform this gathering that the government of Oyo state is budgeting between 15% to 20% on education on yearly basis, and this is yielding a good result for our students. A testimony of what we are celebrating today.
The Commissioner stated that the government of Engineer Oluseyi Makinde has recorded enormous achievements including Students excelling in international and national competitions, Establishment of School of Agriculture and Natural Renewable Resources, Sole ownership of Ladoke Akintola University, Ogbomosho, Establishment of Emmanuel Alanyande University of Education, Oyo, regular payment of subvention to state institutions, recruitment of over 5,000 teachers into secondary schools, Promotions as at when due, among others.
He maintained that the achievements in the field of education as presently witnessed in the State under His Excellency is highly unprecedented in the history of the State.
He added that it is visible to even the blind eyes and known to all discerning minds ranging from institutions, personnel, policies, infrastructural development, appointments, finance just to mention but a few, hence, this is worth celebrating.
The commissioner further disclosed that 7 best students out of the 24 students would be rewarded with a token of 100,00 each while others will get 50,000 and 25,000 each respectively.
"Who I call best friends are those who bring out the best in you. There are pupils and students that have excelled locally, nationally and globally in their various academic pursuits from the Primary, Junior and Senior secondary schools and they will surely by the Grace of God (along with other students) continue in excellence and become the pride of the State, Nation, His Excellency and all of us who are concerned with the glory of Education in the State.
"The Ministry of Education, Science and Technology family wishes to appreciate parents, teachers and schools administrators for their equally important and positive roles in the educational management in their various places across the State which culminates in more success in both internally and externally moderated examinations of the various examinations bodies. Attainment in Educational goals of the State is increasing and our parents, guardians and school administrators are all kindly enjoined not to relent in their efforts so that at another occasion our achievements will be more.
"An African adage with His Excellency's kind permission says and I quote "It takes an entire village to raise a child" that is the administration of His Excellency, Engr. Seyi Makinde FNSE is in the State, it is highly worthy of applause. This can only be done by a kind hearted personality which we find in His Excellency, despite the challenges in other sectors in the State that are equally demanding. I want to assure His Excellency that our students in the State will continue to bring more glory to the State.
"Our Students being celebrated today are both from public and private schools and they have brought glory to the State, to these dear students, I have this to tell you in the words of Ann Landers and I quote "People can't walk over you unless you lie down". Therefore, you being celebrated today should not be an end, keep up your good works and remain focused.
"Permit me again, to mention it that our educational achievements are always without any examination malpractices as the Ministry does not allow it and our Schools records are on a better side of the Examination moderating bodies.10. Finally, I want to use this medium to appreciate His Excellency, the Executive Governor of Oyo State for the approval given for this program, all our dignitaries present here with us, parents, school administrators, teachers, members of the Press, all other stakeholders too numerous to mention, you all make a success of this Education celebration Day.
"Educational Stakeholders are enjoined to continue the good works, be peaceful and kind hearted. The Lord shall reward us all. Once again, I wish all of us happy celebration, Thank you and God bless.Long live Oyo State Ministry of Education, Science and Technology;Long live Oyo State;Long live Nigeria."
However, one of the pupils who received the prize praised the governor of Oyo state for acknowledging the efforts that they had made at both the elementary and secondary school levels. He pledged that they would keep up their efforts to honor the state.