STAKEHOLDERS AT WORLDSTAGE ECONOMIC SUMMIT SAYS WEB OF OFFICIALDOM RESPONSIBLE FOR ELECTRICITY FAILURE IN NIGERIA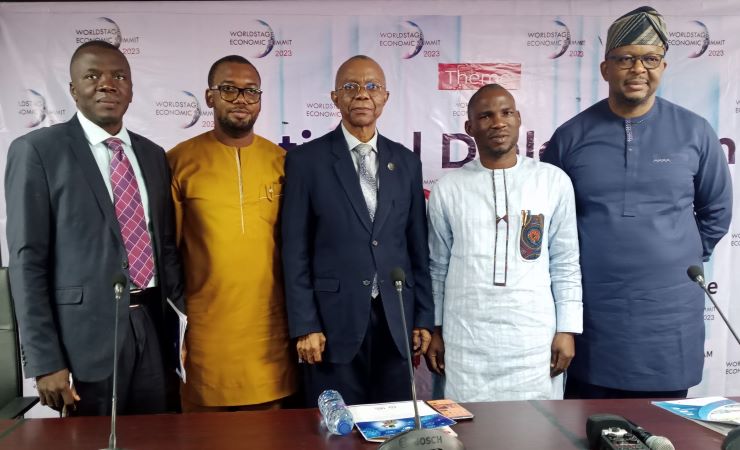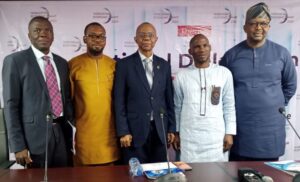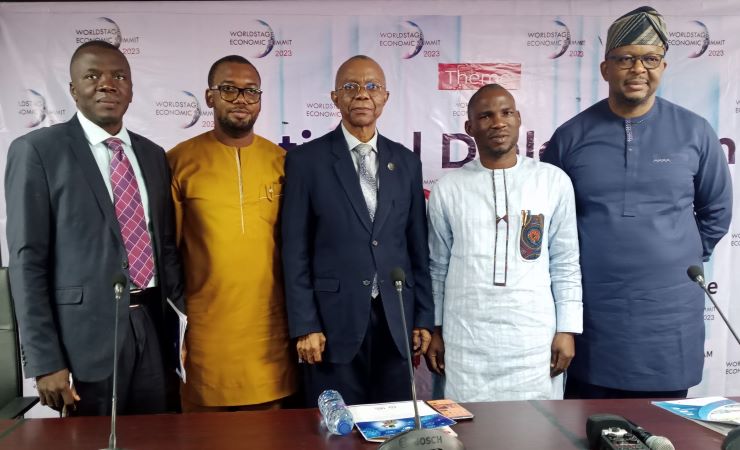 STAKEHOLDERS AT WORLDSTAGE ECONOMIC SUMMIT SAYS WEB OF OFFICIALDOM RESPONSIBLE FOR ELECTRICITY FAILURE IN NIGERIA
Unknown to many Nigerians, failure in regular electricity supply to households and businesses in the country is not only as a result of government negligence or lack of resources to generate it, but also due to complicated web of officialdom.
This was revealed by speakers during the panel discussion at the WorldStage Economic Summit 2023 with the theme: National Dialogue on Electricity which took place on Thursday, November 16, 2023 at the Event Centre of the Nigerian Exchange Limited, Lagos.
At the she summit supported by Shell Nigeria, Nigerian Communications Commission (NCC), Nigeria LNG Limited (NLNG), Central Bank of Nigeria (CBN), Zenith Bank Plc, NNPC Limited and moderated by Professor Olufemi Saibu, Professor of Economics, University of Lagos, one of the panelists, Mr. Johnson Akinnawo who represented Dr. Nnamdi Nnemeka, the MD of Nigerian Bulk Electricity Trading PLC revealing that the power sector was largely challenged by draught of investors.
Another panelist, Mr. Gabriel Idahosa, Deputy President of the Lagos Chamber of Commerce & Industry (LCCI) who represented the President, Dr Michael Olawale-Cole, said to the contrary that refusal by federal government to grant electricity distribution companies the right of transmission had compromised their advantage to make profit.
Also exposing the defects that had been causing the country enormous electricity shortage, the representative of Mr Dele Kelvin Oye, National President, Nigerian Association of Chambers of Commerce, Industries, Mines and Agriculture (NACCIMA), Mr. William pointed out that electricity generating companies in the Nigeria were challenged by inadequate infrastructure to operate optimally and urged government to address the problems.
Earlier, Akinnawo had bemoaned the complexity in the entire chain of power generation, distribution and transmission by raising a concern that in spite of the large amount of money that had been pumped in by successive governments, electricity supply remains unreliable.
Responding to the question on how best to address the challenges of power generation, Akinnawo said it would require humongous investment considering the problem of gas supply for power generation.
"There is the problem of gas challenge because it's more profitable to export gas than selling it locally to generate electricity," he argued.
He differed with Idahosa's position on states' regulation of electricity as well as government ceding transmission to GenCos and DisCos as it did with generation and distribution.
Akinnawo argued that states were not financially endowed, a situation he said might create unintended unfavourable gap in electricity supply to respective public and eventually defeating the very essence of the policy of liberalization. He argued further that some states might be able to meet up with the financial capability needed to train and set up regulators.
Suggesting solution to the challenges of gas, he pointed out that investors would only come into the sector if they know they could make money.
"So, the solution to the challenge of gas in electricity generation is sufficient exploitation as well as exploration of gas to meet domestic needs for assured investment bankability. Model of concessioning the grid must be made bankable to encourage investors," Akinnawo recommended.
He warned however that breaking up the grid had its advantages and disadvantages, explaining that if grid is broken down into smaller units, it would take a toll on the main or larger ones whenever problems occurred. But he emphasized that the federal government s yet to take decision about breaking the grid down to smaller units as being suggested by some sections of the Nigerian public.
Asked about the current high tariff on electricity and what are responsible for it, he explained that electricity as a product must be sold at profit and urged the public to understand that.
Besides, he added, there is regulation in investment network of electricity which had to be understood so as to know why and how tariffs were calculated. Though, he lamented that it was a vicious cycle of a sort, he expressed optimism that Nigerians will soon benefit from the multi-pronged government's efforts at improving electricity.
While admitting that investment might not have yielded enough results in the past, he assured that with the coming of the 2023 Electricity Act, there's now hope for state governments to take the advantage to improve electricity supply to their respective communities and make profit as well.
Idahosa stated that the power sector had gone through series of reforms leading to federal government acceptance that it didn't have the expertise to improve and privatize electricity.
He disclosed that the country was generating about 14,000 mega watts of electricity but that due to all sorts of technicality and complex management, Nigerian public could not enjoy more that 4000 to 5000MW total output.
Idahosa also stated that generating, distributing and transmitting electricity are very technical processes which not a few countries had been able to run well.
Wondering why government was still holding to the transmission aspect of electricity after privatizing generation and distribution, he said the good thing so far is that with the 2023 Electricity Act states are now allowed to partake in all the three legs.
He canvassed that for the privatization to succeed and ensured seamless electricity supply, the gas sector needed to be improved since power generation requires gas supply.
He enlightened that the privatization would favour some states and stakeholders than others, depending on population, citing Lagos as an example of those favoured to attract investment .
Further analyzing the benefit of the electricity privatization, Idahosa said ever a project is to be built through government and private ownership, the private investors do not need to provide all the capital required at once.
He asserted that GenCos and DisCos need transmission opportunity to survive but that they were yet to be given.
"So we are canvassing that transmission should be extended to companies generating and distributing electricity," he stated.
Asked if the current tariff could be sustained to solve the problem of cost and purchasing power, he said it depended on the key player – government – since, according to him, it bears the cost.
"It's a dilemma. The cost is not being fully recovered. The reality of high tariff is that unless the cost of gas is reduced to alleviate cost of generating electricity, the tariff will continue to go up. So to reduce tariff, investment in gas must be encouraged so as to reduce cost," Idahosa explained.
Commenting on the difference between the new policy and the previous ones and why they did not yield much benefit, he said it was never intended that states should finance electricity from their treasury, but to create the enabling environment for private sector in the industry to generate and distribute power.
He said states could make the new policy succeed by providing incentives such as making land available for installation of equipment, granting tax relief, enacting necessary laws that guarantee freedom of choice for willing buyers and willing sellers.
On his part, Mr. Williams punctuated the need by government to look at the option of PPP ( Public-private, partnership) to bridge the funding gap in power supply business.
He also identified that Nigerians were deprived of their rights as consumers and called on the various consumers protection agencies to scale up advocacy that would persuade government to listen to their concerns and take remedial actions whenever necessary.
In his opening remark, the President/CEO of WorldStage, Mr. Segun Adeleye said the idea of a national dialogue on electricity came when his organisation thought about the immense gain that can accrue if the major stakeholders in the Nigerian Electricity Supply Industry are brought under the same roof to frankly speak on their challenges and expectations.
"You will agree with me that we cannot stop talking about electricity supply everyday, either when power supply is frequently withdrawn or when we have have to lament the high cost of alternative power that we generate at our homes and businesses," he said.
"The issues in the Nigeria's power sector are inexhaustible. What we hope to achieve from this dialogue include how to meet power transmission needs; A sustainable electricity pool; Enforcing Technical Standard & Regulation, Inspection, Testing and Certification; Meeting the Nation's needs across entire spectrum of energy value chain; Maintaining balance in gas supply for power generation; Meeting the Electricity Transmission Needs; The renewable energy option; An enabling environment for power generation; Sustainable tariff for electricity supply; Sustainable power supply with PPP; Achieving Energy Sufficiency With Equitable Local Content; Consumer protection; Attracting the right investments to the electricity sector, among others."
He said it is unacceptable Nigeria currently has the lowest access to electricity globally, with about 92 million persons out of the country's 200 million population lacking access to power.
The WorldStage boss said without prejudice to what the discussants will agree on at the summit, the President Bola Tinubu administration should shed more light on the state of agreement with the Siemens of Germany to help increase Nigeria's electricity generation to 25,000MW in six years.
"The $2 billion deal is already behind schedule as it was structured to take the country's grid operational capacity from less than 5,000MW to 7,000MW by 2021; increase the capacity to 11,000MW by 2023 and achieve total operational generation and national grid capacity to 25,000MW by 2025," he said.
"As the country is endowed with abundant renewable energy resources, the significant ones being solar energy, biomass, wind, and small and large hydro-power with potential for hydrogen fuel, geothermal and ocean energies, the exploitation and utilization of renewable energy resources should also be a priority of the government."