ỌMỌYẸLÉ ṢÒWÒRẸ́ VS. ASIWAJU'S NOVELTY MATCH: MUCH HOOPLA ABOUT A GESTURE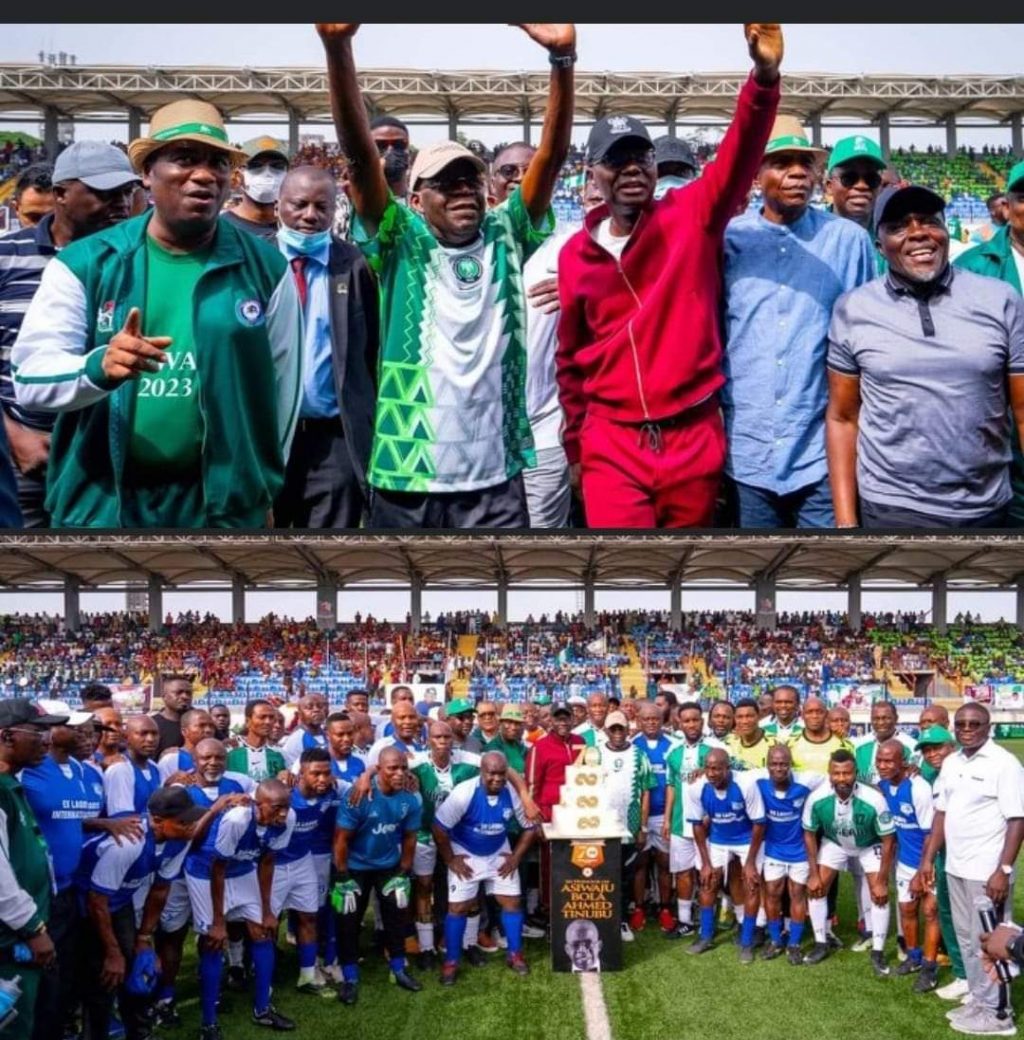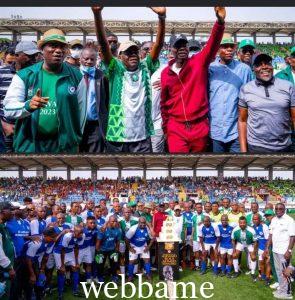 ỌMỌYẸLÉ ṢÒWÒRẸ́ VS. ASIWAJU'S NOVELTY MATCH: MUCH HOOPLA ABOUT A GESTURE
– By Omogbolahan Babs
There is a common cliché in Yoruba land – 'Oore kìí gbé' (a favour is ne'er lost). That succinctly describes the scenario surrounding the novelty match held yesterday, Sunday, March 20, 2023 in honour of the National Leader, All Progressives Congress (APC), Asiwaju Bola Ahmed Tinubu whose septuagenarian age is just eight (8) days away. But trust Nigerians, nay, Asiwaju Tinubu's adversaries in their idiosyncratic way, the typical cynical naysayers' camp already came up with their usual – the innuendo. This time around, this was arrowheaded (sic) by no other person than the 'grant chopper' himself, rabble rouser and publisher of an online portal, Sahara Reporters, Omoyele Sowore. Of course, reputed for his notoriety, fakery and fakir-peddling journalism for a living, Sowore for many years has been discovered by the public as a man with one-true-story-out-of-ten 'investigative journalist' (if that phrase is by any means existing in Nigeria).
Omoyele Sowore had taken a swipe at the quartet of Pastor Taribo West, Austin J.J. Okocha, Kanu Nwankwo (Papilo) and Victor Ikpeba the four of whom had done the proud in the area of sports for daring to organise a novelty match in honour of the APC National Leader, Asiwaju Tinubu. Not only did Sowore throw caution into the wind by describing the arrowheads of the event as poverty-stricken for identifying with Asiwaju Tinubu and therefore seeking for his patronage, he appeared to have been personally pained by such tremendous support from these sportsmen, many of whom had benefitted immensely from the large-heartedness of a man once described by Senator Babafemi Ojudu, a Political Adviser to President Muhammadu Buhari seconded to the Office of the Vice President, as a giver with no limit. A look at his personal social media handles will reveal such animosity. The question which then arises is this, 'What is the hoopla about a novelty match?'
Meanwhile, here is an Omoyele Sowore whose personality has constantly been a subject of controversies playing the moral rectitude. Here is a man whose own political party, African Action Congress (AAC) sent him parking from a movement he formed for peculating their funds. Here is somebody sacked even through the court by his party as the National Chairman for financial impropriety and for abysmal failure. Here is somebody who allegedly did not only 'chop' foreign grant released to him, but also 'chop' beautiful 'opeke', or were they even 'opekes' working with him. It beggars belief that such a man with a web of dubitable and dodgy character will act sanctimonious when he is expected to remove the pecks from his eyes. Sowore mistook everyone for himself who has consistently proven an ingrate to his benefactors. People like Kanu and several others who had benefitted from the magnanimity of the political juggernaut will only see Sowore for who he is – a public nuisance.
For the records, Kanu had told the public that were it not for Asiwaju's timely intervention in the 2000s, his Kanu Heart Foundation (KHF) which today has successfully carried out over 595 heart surgeries may not have seen the light of the day. Asiwaju Tinubu he said, made a donation of a lifeline sum that breathed life into the foundation. Nigeria's best ever dribbler in history, Austin J.J Okocha in his laconic words said Asiwaju is why he calls Lagos a home. Asiwaju Tinubu's philanthropic gesture to these sportsmen men and women is not only limited to the sports industry. Will Sowore also claim ignorance of Baba's largess to the entertainment industry? As a student of history, it is on record that Asiwaju Bola Tinubu had extended his heart of gold to the likes of the Fuji creator, Alhaji Sikiru Ayinde Barrister, Gbenga Adeboye (a.k.a Funwontan), Moji Olaiya, Babatunde Omidina (Baba Suwe) all of blessed memory during their hours of need. Of particular note was that of Moji Olaiya who died in faraway Canada with no one ready to foot her obsequies among her fellow artistes. Asiwaju came to the rescue by flying her corpse into the country.
For Asiwaju Tinubu, it does not matter your tongue. It does not matter your belief or credo and neither does it matter your background. The only criterion that qualifies you for his token as a man with the Midas touch is that you are human. This is why a number of various persons, dead or living, and some of whom today are not in support of his political aspiration has heard their good stories to tell of the Jagaban Borgu about his unparalleled generosity. The below anecdotes will lend credence to the issue under review to denounce the jabberwocky from the odious gullet of the cantankerous Sowore;
"Tinubu sponsored by bachelor's eve" – Chief Ebenezer Babatope (a chieftain of the PDP)
"Asiwaju sold one of his properties to help bring back life to my dying media business." – Sen. Babafemi Ojudu (Political Adviser, Office of the Vice President)
"Tinubu sponsored my treatment abroad." – late Yinka Odumakin (Afenifere chieftain)
"Tinubu sponsored my wedding." – Kayode Ajulo (Lawyer, PYO loyalist)
"When we wanted to start my heart foundation, and we contacted people, it was only Tinubu that helped us." – Kanu Nwankwo (Super Eagles' Striker and medalist)
"Without that money (Tinubu donated 22years ago), there would not have been Kanu Foundation to perform the heart surgeries that have saved many lives." – Kanu Nwankwo (Super Eagles' Striker and medalist)
So, for everyone who identifies with Asiwaju Bola Tinubu today, such a person must be poor or must have become impoverished (if ever they were well to do before) as a corollary of life's vicissitudes. Such can only come from a perverted soul, a noisome and ferocious mind whose heart can only be described as that filled with envy, jealousy and acidity. One hopes Omoyele Sowore will have a rethink, if ever he does, over his puerile, infantile and jejune outbursts. The above from some of those who had benefitted one way or the other from Asiwaju's bigheartedness should hopefully adumbrate his attempt at making a devil out of his Asiwaju Tinubu – his migraine over the years.
#AsiwajuIsComing
Omogbolahan Babs writes from Abuja, FCT. He can be reached through any of these email addresses; riches.babs@gmail.com or obabawale@tinubuchronices.com