CITIZENS HAVE A DUTY IN PROTECTING TELECOM INFRASTRUCTURE – PROF. ADEOLU AKANDE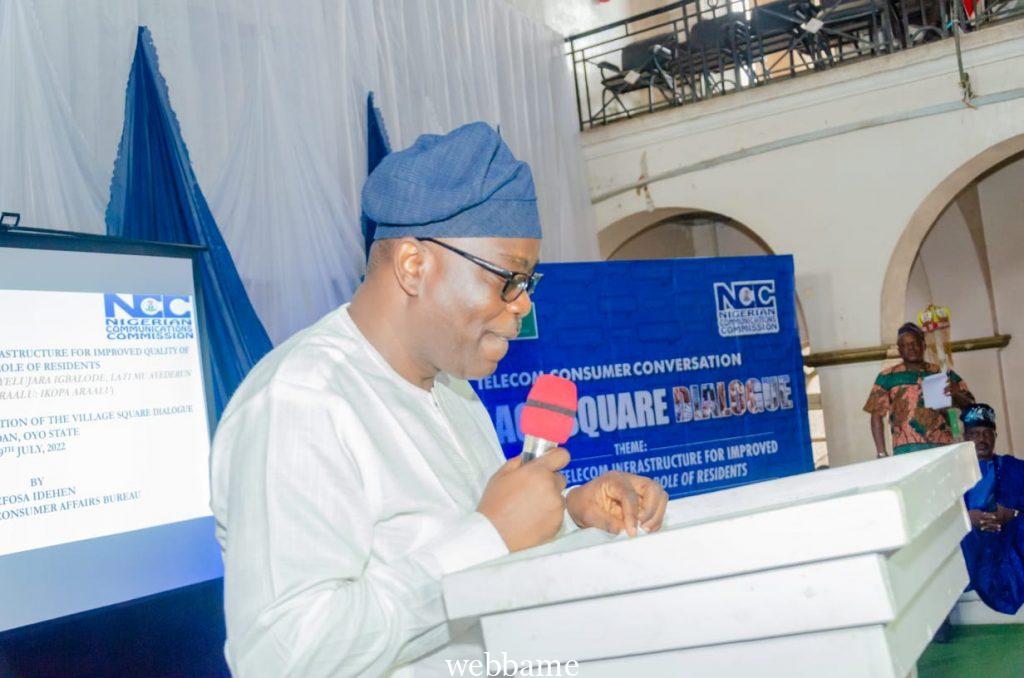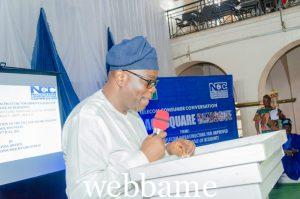 CITIZENS HAVE A DUTY IN PROTECTING TELECOM INFRASTRUCTURE – PROF. ADEOLU AKANDE
The Chairman Board of Nigeria Communications Commission, Prof. Adeolu Akande has urged citizens, particularly residents of areas where telecom infrastructures are situated to regard protection of such critical national assets as their civic responsibility.
The appeal according to a statement by Dejo Adebisi came over the weekend at an interactive session organized by the Telecom regulatory Agency between telecom products consumers and the service providers in Ibadan with the theme: "Protection of Telecom Infrastructures for improved Service Delivery: The Role of Residents"
The "viilage square dialogue" which took place at the ancient Mapo Hall, Ibadan was preceded with a courtesy call at the private residence of the Olubadan of Ibadan Land by the NCC team led by the Chairman and were received by the representative of Olubadan, Chief Ademola Odunade, Ayingun Olubadan of Ibadan Land.
Prof. Adeolu told the Kabiyesi that one of the problems confronting the country is the protection of public infrastructure for which the President had to sign a bill last year on the Protection of Physical National Infrastructures. As the regulatory body, the agency has therefore designed a program of consultation and engagement through the traditional institutions with the generality of the citizens towards sensitizing them to seeing telecom infrastructures as "their own" and should therefore be protected by all.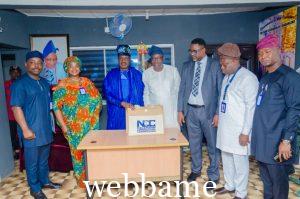 Noting that since Nigeria is so vast, such that the government cannot position security operatives in every location where these infrastructures are situated, it therefore became necessary for citizens to assist themselves in guarding these gadgets for efficient service delivery to them.
In his response, Olubadan through Chief Ademola Odunade (Ayingun Olubadan of Ibadan Land) welcomed the team to Ibadan, while reiterating the importance of telecommunications to the social and economic engagements of the people, promised to deliver the NCC's message to the Kabiyesi – the Olubadan.
At Mapo Hall later, Akande re- emphasized on the need by the citizens to prevent further vandalisation of telecom infrastructure around their localities by reporting suspected vandals to the law enforcement agents, urging them to regard these critical social and economic gadgets as "their own".
Efosa Idehen, the Director, Consumer Affairs Bureau of the agency, in his presentation enumerated the strategic importance of telecommunications to the day-to-day activities of the citizens and implored them to hold very dear to their hearts the protection of such facilities for enhanced service provision.
He directed the operators present at the dialogue – MTN, Airtel, Glo e.t.c, as well as a few conactors to the service providers to take note and resolve, there on the spot, issues raised concerning poor services by the cross-section of consumers present at the event.
Also, the Chairman, Nigeria Lotteries Regulatory Commission (NLRC) Alh. Fatai Ibikunle, while endorsing the theme of the town hall dialogue, commended the NCC team for the laudable initiative.
The event was well attended by various groups – market women and men, artisans, consumer protection NGOs, civil servants, community development associations, religious organisations, farmers, vigilante groups, regular security & paramilitary operatives, telecom technical support groups and several other groups