BetaX Set To Empower African Youths, Alleviates Poverty–Oladayo Olusoga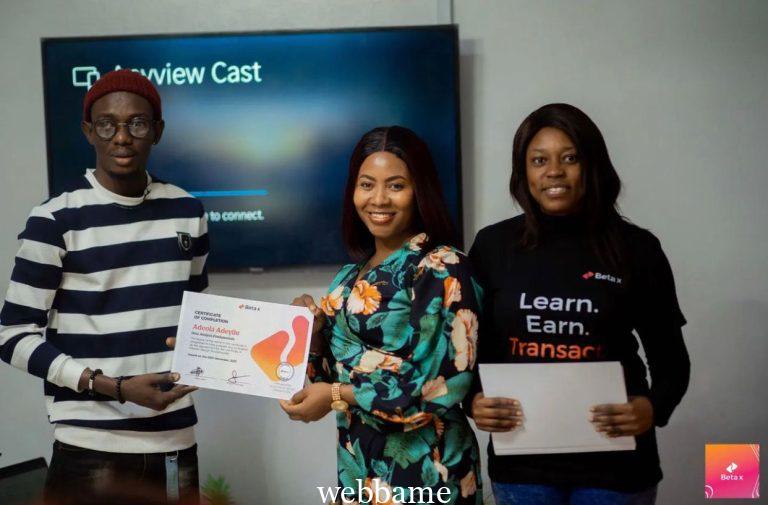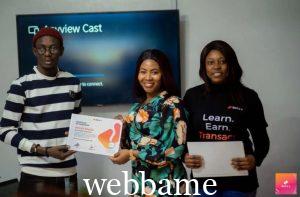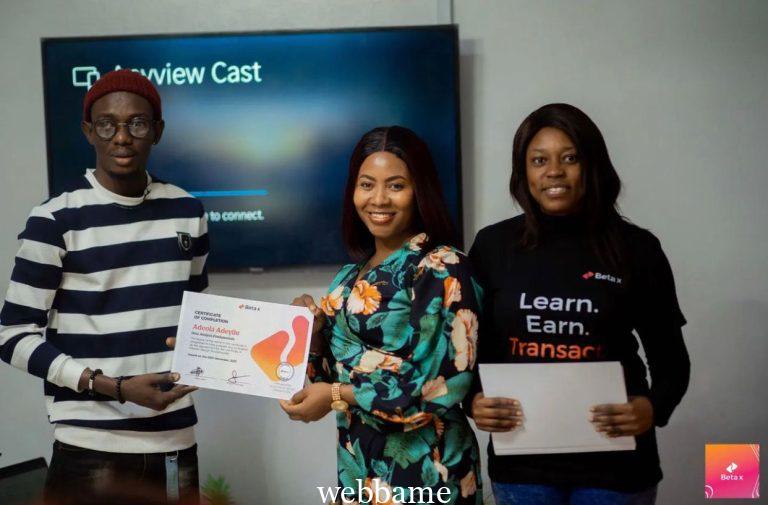 BetaX Set To Empower African Youths, Alleviates Poverty–Oladayo Olusoga
Mr Oludayo Olusoga, the Executive Director, BetaX Digital Literacy for Sustainable Development Initiative, says the initiative will empower African youths, alleviate poverty, solve hunger problems and reduce unemployment in the continent.
Olusoga made this known at the graduation of the First set of free Digital Skills Training organised by the initiative, on Thursday in Ibadan, where certificates were presented to the graduands.
Emmanuel Adegoke, Deputy Director and Manager, Programme/Products), Adeola Adeyilu, a graduate from the Data Analysis programme and Ololamide Yomi-Francis, Team Lead, BetaX Learning Programme, at the Certificates presentation.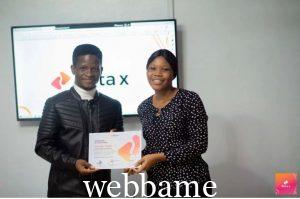 According to him, the initiative is positioned to empower African youths, alleviate poverty, solve hunger problems and reduce unemployment.
"BetaX is a tech non-profit foundation tackling unemployment and poor digital adoption in Africa.
"It is equipping young people with tech skills and resources to help them find opportunities and grow their earning power within the global digital space.
"BetaX has actively reached over 10,000 youths this year via her online presence and has processed over 1000 applications in registration for digital skills programme at different times.
"The applications were subjected to stringent measures and standards, leading to the selection of 150 who were taken in for the Digital Skills for Enterpreneurs that has just been recently concluded," he said.
Olusoga noted that in August, BetaX had free webinar trainings where seasoned facilitators like Sam Harvard were hosted, highlighting the importance of digital entrepreneurship.
"He stressed with practical examples, the possibility of earning in dollars by simply having the right knowledge, smart phone or laptop and internet connectivity.
"In September again, BetaX conducted a one day LinkedIn optimisation and monetisation training.
"This programme was geared toward enlightening youths on how to take advantage of digital networking and connecting with potential opportunities.
"The attendees also had an opportunity to participate and benefit from the Curriculum Vitae workshop segment of the training.
"The training had in attendance, graduates of higher institutions, youth corp members, jobs seekers, entrepreneurs and professionals.
"The crowning endeavour of the year by Betax was embarked upon in November, to train young people in the fundamental aspect of Digital Skills with high earning potential for five weeks- Data Analysis and Product Design (UI/UX)," he said.
Also, Olumide Ojeleye, an International Brand and Performing Coach based in Atlanta ,Georgia, lauded the objectives and goals of BetaX.
Ojeleye said that this became imperative, "particularly at this time when Africans are taking the advantages and seizing the opportunities on the digital space because of lack of fund and training sessions".
Testifying at the graduation ceremony, Chukwuemeka Kalu, one of the participants in the Data Analysis Training Programme, attested to the quality of the training being received at the BetaX training hub.
Kalu said that on the strength of the competence, he had been able to master the art of Data Management and Analysis.
He testified humorously that even,while still undergoing the training, he has begun to receive opportunities and offer to work with the newly gained knowledge." (NAN)