INTERVIEW : TINUBU WILL MATCH NIGERIA TO PROSPERITY AND ACCELERATED DEVELOPMENT-DR BADEJI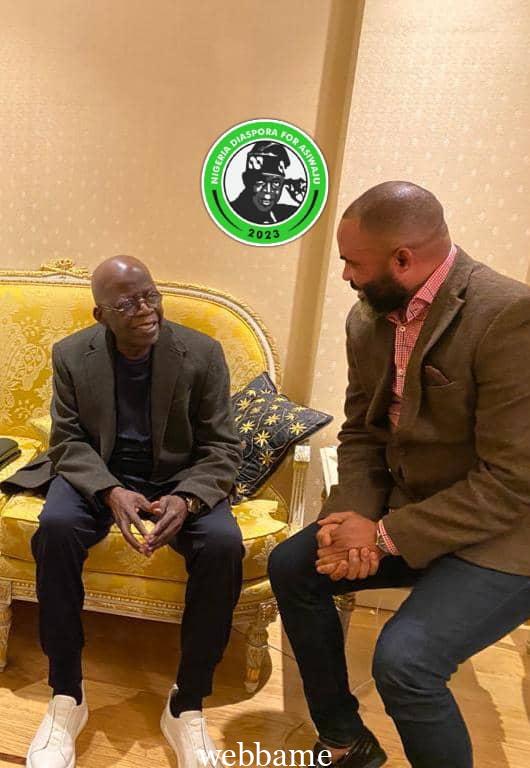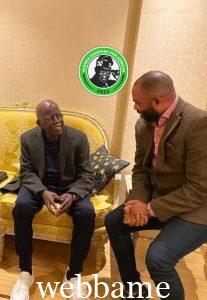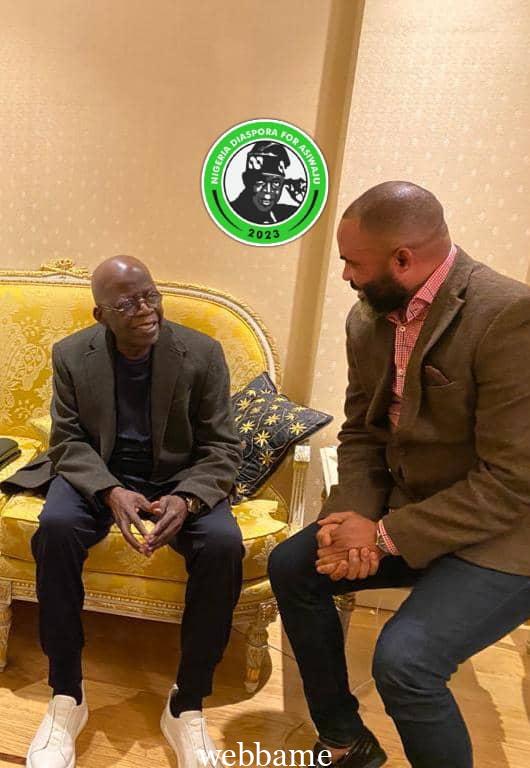 INTERVIEW : TINUBU WILL MATCH NIGERIA TO PROSPERITY AND ACCELERATED DEVELOPMENT-DR BADEJI
In this interview by Rasheed Komolafe Publisher GREATRIBUNETVNEWS. COM, Dr Lee Akin Badeji,Director General, Nigeria Diaspora for Asiwaju speaks on Presidential ambition of Asiwaju Bola Ahmed Tinubu and why his group strategic approach to actualization of Tinubu Presidential ambition is different from other support groups in the country
Excerpts:
Asiwaju Bola Tinubu was in London recently to deepen his campaign for presidential bid.Could you share with us the issues he discussed with your group and other like minds at the meeting?
Asiwaju's visit to London, contrary to the insinuations in the media – both conventional and social that he was flown out urgently to receive medical attention, was to further take his consultations to Nigerians in the diaspora.
You will notice that Diaspora Nigerians are one of the critical stakeholders in our nation building. Albeit a large number of them may not take part in the real election process, a sizeable number of them comes home to exercise their franchise during elections while others have very huge influence on their relatives back home on Parties' candidacy.
They canvass for candidates along party lines including those who seem apolitical among them. So, it is fundamentally germane that such consultation was executed. Do not also forget the fact that Parties, especially the All Progressives Congress (APC) have Diaspora chapters.
Aside this set of people, the political icon also met with international bodies, leaders to share his vision of a new Nigeria with the world.
Essentially, his engagement with our group – the Nigeria Diaspora for Aṣíwájú (NDA) was how to consolidate on the achievements of the incumbent administration. It was basically his strategies at navigating Nigeria through her murky waters of uncertainties to a berth of socioeconomic el dorado. The 3-hour long meeting was largely about what he will do differently to retool Nigeria for prosperity and accelerated development.
He arrived Nigeria on Sunday after concluding talks with Diaspora group. Are we likely to see more intense consultations and build bridging to actualize his mandate?
Asiwaju is cosmopolitan. Consultation is a going-concern so to speak. There's no adequacy to such engagement with critical stakeholders in and outside the country. What the country has so far witnessed is consultation with the political class especially in the country. The business community, the informal sector and other important groups will still be consulted. It is a huge project. And Asiwaju is up to the task.
Tell us about NDA
NDA is an acronym for Nigeria Diaspora for Aṣíwájú. It is a group established under my ascendancy as the Director General by an array of eggheads who are domiciled outside the country to preach the gospel of an Asiwaju Bola Tinubu presidency. We have our headquarters in the United Kingdom with a country office in the heart of the Federal Capital Territory, FCT, Abuja.
The Nigeria Diaspora for Aṣíwájú (NDA) was established with the sole aim of canvassing for a Tinubu presidency. This, we intend to do (and we have been doing) with the combined efforts of Nigerians living outside the country as well as the capable hands working tirelessly at the home country to carry on with the advocacy.
The group has its own structure under my leadership ( Dr Lee Akin Badeji Director General) with other state chapters as well as local government and ward structure.
Why are you spearheading campaign for Tinubu's presidency in Diaspora?
Our organisation, like I mentioned earlier is not only canvassing for a Tinubu presidency in the Diaspora. Our advocacy is global. And the vision is simple – Nigeria, come 2023 needs a man with the requisite wherewithal to consolidate the achievements of the incumbent.
In terms of experience, vision, competence and capacity, no one rivals Asiwaju Bola Tinubu in our assessment of the many presidential hopefuls. He has the most intimidating credentials to take over from where the Buhari/Osinbajo-led administration will terminate.
What are the activities of the NDA and its relationship between your group and other organizations campaigning for Asiwaju's presidency?
The activities of our group are largely advocacy which come in form of engagement with the public through physical interactions with the voting populace, media engagement through TV appearances, promotional advertorials in both social and conventional media and other mechanisms.
One of such public engagements was a programme titled 'I Insist! We Insist! Nigeria Insists'!' held on Tuesday, November 30, 2021 and hosted by Chief Mrs Afọláṣadé Tinubu-Òjó at the Abibatu Mọ́gàjí House, Ìkẹjà, Lagos. The programme which was hugely attended was organised to call on Asiwaju Bola Tinubu to run for the presidency of the country. And thank God that he has hearken the clarion call.
Our group engages with the public in form of sensitisation at market places, motor parks and other public rendezvous to propagate its advocacy. And our relationship with other support groups has largely been cordial, mutual and symbiotic.
As a matter of fact, I get calls now on almost daily basis from many groups willing to collaborate with us on the Asiwaju Tinubu project. That is not to mention those groups which had collapsed their structures into that of the NDA long before now.
Tell us your membership strength abroad.Are there other part of the world you intend to spread your tentacles to?
Albeit created newly, less than 6 months ago, the membership strength in the diaspora is huge. It is spread across three continents of Europe, Asia and America. At the moment, we have our presence in a number of countries around the world with more country chapters coming up in weeks. Canada, America, Switzerland, Malaysia, South Africa, Ireland, Germany, and of course the United Kingdom are some of the existing chapters with more to come.
The vision is to be global in the real sense of it. And that, we will achieve.
The activities of the NDA in Nigeria is still limited to the South West.Why is this so?.Any timelines to caprure other geographical zones in the country?
Our activities in Nigeria are not limited to the South West alone. As a matter of fact, we have our spread across the country even we plan for more States to come up in few weeks from now.
There is the Kano State Chapter, Katsina, Niger, Nasarawa, Cross River, Bayelsa, Imo, Abia, and of course the Federal Capital Territory chapter with additional states coming up soon. Do not forget, we are relatively new even though we have become a household name in so short a period. We want to take it one step at a time. We hope that more States if not the entire country will be captured in another 8 weeks.
Apart from advocacy,what other strategies would you deploy to garner votes for your principal as the 2023 presidential election hots up?
The advocacy of the NDA is dynamic. The NDA came with its unique approach different from the regular. The idea is to have a structure extended to the ward level across the country.
This is because we believe these people are the closest to the grassroots whose support we crave. Do not forget that the voting populace is essentially those at the grassroots and it is the reason we are taking no stone unturned in going through that route.
Do not also forget that electoral victory is about constant engagement with the grass root,giving them assurance of a leadership that is concerned about their welfare. Each-one-tell-one approach is another of our method.
This is where each member of the NDA goes on 'televangelism' to spread the message of hope in an Asiwaju presidency. It is what we have chosen to do. It is the path we have chosen to thread. And that, we shall, by His grace.
What have been the achievements and challenges of the group so far?
The achievements of the NDA is there for all to see. Is it not obvious that a Group with no moneybag 'bankrolling' its activities will take the country by storm and has become talk of the country and beyond? You recently saw our principal, Asiwaju Bola Ahmed Tinubu meet with me alongside some of our Steering Committee members in London in a 3-hour têtê-a-têtê.
That, for us at the NDA is huge! It is the greatest achievement any support group could wish for. It tells you that when you are focused, nothing is not achievable. We are elated that Baba appreciates our efforts so far. And all thanks to God and we are equally grateful to our Life Matron, Chief Mrs Afọláṣadé Tinubu-Òjó who has been of tremendous support for our advocacy.
Our challenge is not different from the usual. We are a Group that is solely and entirely self-financed. We have no one financing our activities. Whatever you have seen us do – going to TV stations for media engagement, street sensitisation and what have you have been 100% financed by members of the Group, particularly the leadership of the NDA.
The group has a lot of activities in the pipeline but handicapped with finance. It is why we have decided to take it one step at a time. That is not to say we are not open to sponsorship from spirited Nigerians who believe in an Asiwaju Tinubu leadership and have the wherewithal to support our advocacy.
What is your take on suggestion by some opinion moulders that Nigeria's next president should not be more than 60years?
Leadership has no direct connect with age. We have seen young political office holders in the country perform abysmally. What is key is the vision, the experience and the capacity to deliver. Does this man have the experience? Has he done it before? Did he deliver? If the answer to these pertinent questions are yes, then, age is immaterial.
Today in America where we copied our democracy from, the defeated president, Donald Trump is 75 years old. His successor, Joe Biden is 79 years old. The Italian president is 75. Only recently, news went viral that the Speaker of the America House, Pelosi who is seeking a 19th term in the House is 81! So, it is not about age, but what such candidate can do.
One of your principal's proteges appear to be interested in the presidency,another former governor said he's ready to outspend Asiwaju to get the party's ticket and win the presidential election,while presidency's body language is said to have favoured candidate from South South.How would Tinubu overcome these hurdles and eventually win the presidential election?
The more, the merrier. Let whoever wants to slug it out throw their hats into the ring. It is called democracy. Do not also forget that politics is not served à la carte. You have to be involved fully. That some persons have shown interest in the race makes it more fun. It will allow for more robust politicking. There will be gamesmanship and political chicanery, but then, when the time comes, Asiwaju will display what makes him the biggest political icon in recent decades.
That the Presidency seems to have 'favoured' a particular candidate is not new in our polity. Again, time will reveal the workability of such candidacy across the length and breadth of the country. Hurdles are part of life's vicissitudes. Politics is therefore no exception.
Asiwaju Bola Tinubu loves to be challenged. And it is in such that you see him display his political dexterity. When the time comes, 'àlà á fi oko ọ̀lẹ hàn' (the master strategist will display what sets him apart).
Tell us what you do not anticipate in Asiwaju's presidential ambition?
We anticipate anything. We anticipate everything. And we anticipate nothing. This is politics and anything is possible